EXPERIENCED. CONVENIENT. TRUSTED.
Custom Patio & Deck Enclosures
Mobile Screens

can customize screens to enclose most any patio or deck. Many patio or deck enclosure applications utilize a combination of storm windows and screens so that they can be interchanged depending on the season.
Types Of Panels For Patio Or Deck Enclosures:
Sliding or fixed panels are the main applications used for patio or deck enclosures. Almost all panels are custom made right in our shop located in Tigard, Oregon. Click here to see our gallery of completed jobs.
In addition to standard rectangular frames we can fabricate panels that require odd angles and shapes for structures like gazebos.
The panel framing normally used for patio and deck enclosures is usually made of aluminum or wood. Aside from screens a variety of different materials such as tempered glass, plate glass and plexi-glass are just some of the materials that can be used to shelter your space from the weather.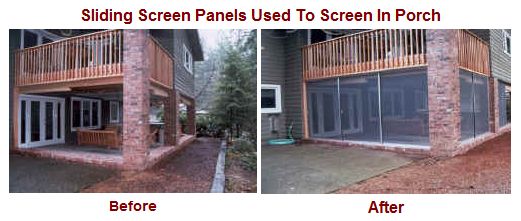 Patio enclosures sliding screen panels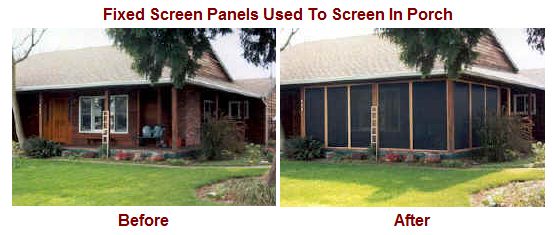 Patio enclosures fixed panels
Types Of Screening For Patio Or Deck Enclosures:
We feature various different styles of custom patio or deck enclosure screening. Screening materials can range anywhere from standard fiberglass mesh to pet mesh, aluminum mesh and even solar mesh if sunshade is a requirement.
Work hours
Mon-Thurs 8:30 A.M. - 4:30 P.M.
Friday 8:30 A.M. - 3:00 P.M.
location
9448 SW Tigard St Tigard, OR 97223
Mobile Screens Etc., Inc. proudly serving Portland, Oregon, and the surrounding areas of Beaverton, Clackamas, Gresham, Tigard, Tualatin, Hillsboro, Lake Oswego, Troutdale, Oregon City, West Linn, Gladstone, King City, Sherwood, Newberg, Scholls, North Plains, Aloha, Cedar Hills, Cedar Mill, Hillsdale, Raleigh Hills, Multnomah, Lake Grove, Oak Grove, Willamette, Wilsonville, Vancouver, Hazel Dell, Orchards and Salmon Creek.
Hours
Mon-Thurs 8:30 A.M. - 4:30 P.M.
Friday 8:30 A.M. - 3:00 P.M.
Mailing Address
Mobile Screens Etc., Inc.
P.O. Box 230011
Tigard, OR  97281