EXPERIENCED. CONVENIENT. TRUSTED.
Window and Door Screen Mesh Options
Window and Door Screen Mesh
The below pictures were all taken at the same distance of 12" to give the best representation of the mesh's openness and blockage. Most people don't stand 12" from their screen, but I had to in order for you to see it. They will not look this noticeable on your windows.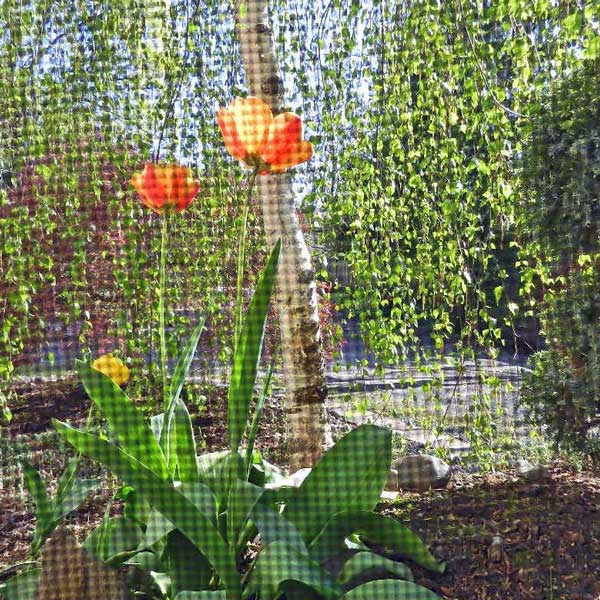 FIBERGLASS MESH
The standard insect mesh primarily used today is fiberglass mesh.
Available in charcoal and gray.
Allows approximately

80%

of the view, the air and the light. (99% of our customers chose the charcoal because it's easier to see out of from the inside.) You could also say the mesh blocks 20% of the view, air and light.
If kept clean, this mesh can last 10 -16 years.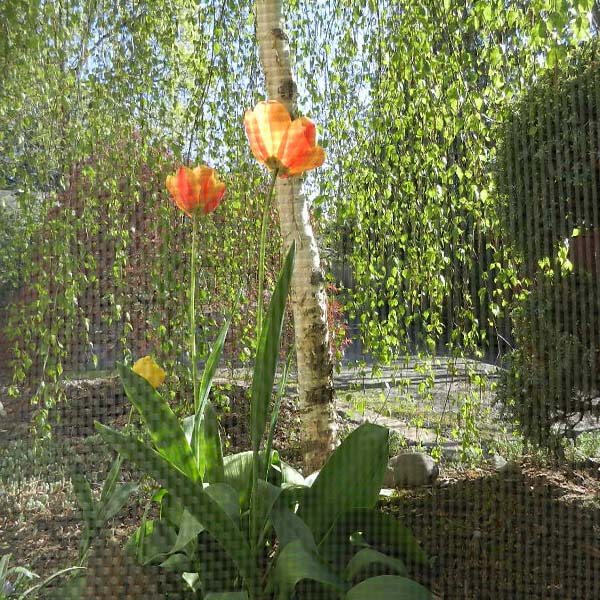 ALUMINUM MESH
This was the old standard in mesh prior to the 1960's.
Most commonly used in wooden screen doors is

aluminum

mesh.
Available in charcoal and brite aluminum options.
Offers increased sturdiness and longevity.
Allows about

80%

of your view, the air and the light.
Lasts over 20 years as long as nothing sharp comes in contact with it.
Limited Availability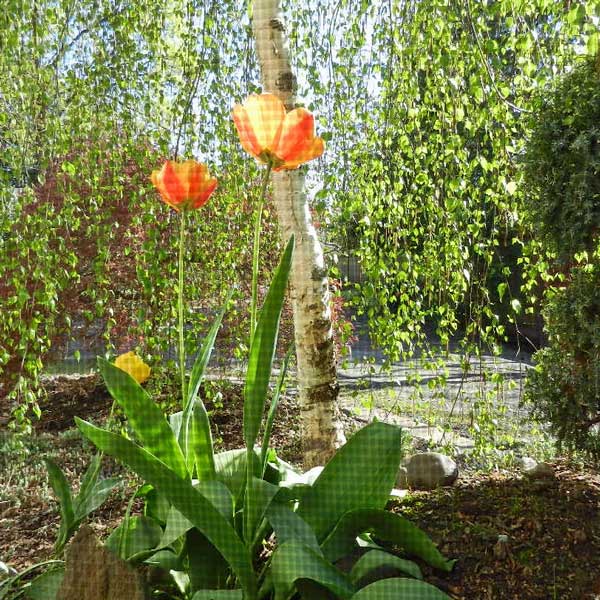 NEW STAINLESS STEEL SEEVUE MESH!
The newest metal mesh option is SEEVUE. It's made of a thin stainless steel wire that will not rust, oxidize, calcify or dent easily. It truly has a less obstructed view than most metal mesh options.
Available in black.
Allows about

85%

of your view, the air and the light.
We don't know how long it will last because it's new, but I can guess over 30 years if sharp objects stay away from it.
Limited Availability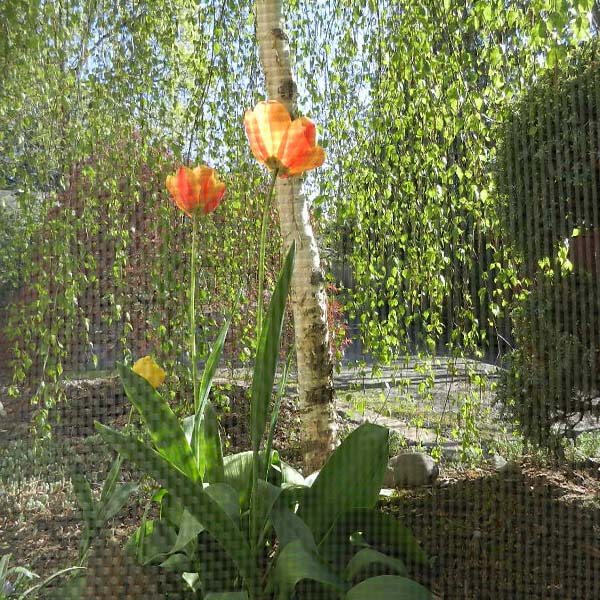 ULTRAVUE MESH
When you are surrounded by the beauty of the northwest, you want to see it. You can see the outside better with UltraVue screens.
Made of an extremely thin strand of fiberglass mesh that will allow about

95%

of your view.
This translates into

3 times more light, air and visibility

than standard fiberglass mesh. You can hardly see the mesh which is why we don't recommend putting it on screen doors. It's also not recommended where cats, dogs and children might be in contact with the screen.
It does tear easy and with full sun exposure it might last about 10-12 years. It's brand new so that's only a guess.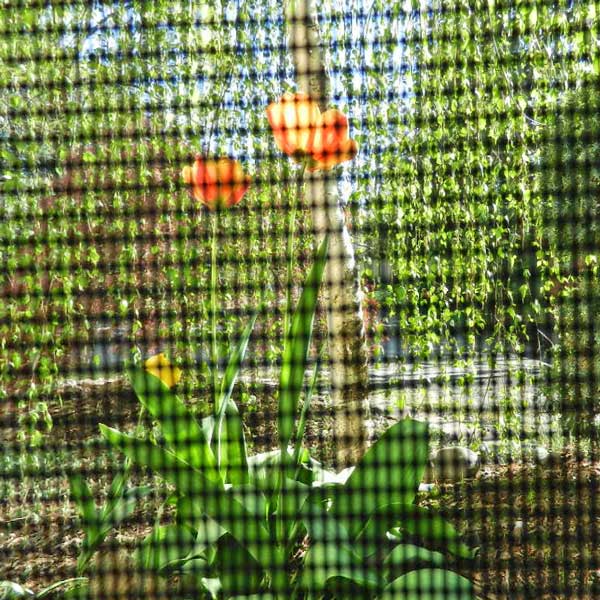 PET MESH
Then the best solution is Pet Mesh! No it's not made from deceased pets. Although a few of my customers have suggested it. It's a tough vinyl-coated polyester mesh that won't tear if a cat or dog claws at it or climbs on it. It's even hard to cut with a razor blade.
Allows about

35%

of the view, air flow and visibility.
Available in black and gray.
Should last 20 – 30 years depending on how much direct sunlight will hit upon it. It will look a bit darker in the room but it's worth it if you have been replacing the mesh every 2-3 years or so.
You can install a pet door into it easily and the corners won't tear.
NEW TUFFSCREEN NOW AVAILABLE!
Same as above but allows 45% visibility.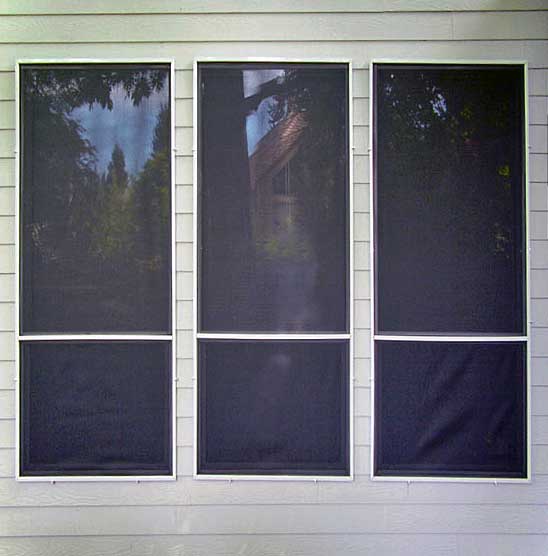 Solar Screens also know as Sun Screens or Sun Block Screens can significantly reduce the temperature in rooms that have direct exposure to the sun by as much as 15 degrees.
Available in black, brown, grey, stucco and beige.
The Phifer Sun Screen

90%

block can reduce a room's temperature by as much as 15 degrees.
There are a few ways to mount this screen. It can be fixed to the outside of the window with screws and turn clips so it's easily removed at the end of the hot season or it can be rolled up onto a tube by way of a chain so it can be rolled up daily if needed for air flow.
They can cut your A/C bill drastically.
They can pay for themselves in the first year.
A solar screen can even prevent vinyl siding from warping or melting when the sun bounces off a window onto an opposing wall.
Made of long-lasting vinyl coated fiberglass fabric made by Phifer Suntex and is usually used on the outside of the home. It can be installed on the inside but it will not block the heat very well. (Once the glass has been heated up by the sun it will find its way into the room past an inside mounted screen easily.)
Afford a blocked view from the outside (see following section on privacy).
Solar Screens are also Privacy Screens. They obstruct the view from the outside of your home inward. They are a great solution for rooms that are exposed to street view or other public access. In the daytime you can be standing inside by the window and see a person outside but they could not see you. At night if the room has a light on (like a standard 60 watt bulb), then someone standing outside could only see shadow like shapes inside. They can be mounted inside or out.
Work hours
Mon-Thurs 8:30 A.M. - 4:30 P.M.
Friday 8:30 A.M. - 3:00 P.M.
location
9448 SW Tigard St Tigard, OR 97223
Mobile Screens Etc., Inc. proudly serving Portland, Oregon, and the surrounding areas of Beaverton, Clackamas, Gresham, Tigard, Tualatin, Hillsboro, Lake Oswego, Troutdale, Oregon City, West Linn, Gladstone, King City, Sherwood, Newberg, Scholls, North Plains, Aloha, Cedar Hills, Cedar Mill, Hillsdale, Raleigh Hills, Multnomah, Lake Grove, Oak Grove, Willamette, Wilsonville, Vancouver, Hazel Dell, Orchards and Salmon Creek.
Hours
Mon-Thurs 8:30 A.M. - 4:30 P.M.
Friday 8:30 A.M. - 3:00 P.M.
Mailing Address
Mobile Screens Etc., Inc.
P.O. Box 230011
Tigard, OR  97281